AZbox ME image OpenSpa 3.0


What's new:
- Opticum AX-ODIN (ODINM7) supported.
- E3HD supported.
- MKDigital XP1000 supported.
- New MultiBoot (*Except Azbox).
- New Skin Basic.
- New installed plugin's selector.
- New Videomode.
- New Audioselection.
- Added: VFDMOD for Duo2 display.
- Added: Vuplus plugin Audioeffect.
- Added: UserInterfacePositioner (OSD).
- Added: Autoinstalling Inadyn.
- Rewrite: Reading function in EPG mhw2. Now, you can download 7 days EPG again!.
- Fix .srt subtitles.
- Fix NFS mounts in AZBox.
- Fix GS InputDeviceSetup.
- Added: "fuse" installed.
- Updated transtreamproxy, needed in Duo2 & Solo2 to transcoding.
- CronManager it's out of OpenSPA plugins: now it's embedded in Enigma2.
- LCD4Linux 3.9-r2.
- Unabled access to "Update software".
- Spanish language: Changed "Peliculas" to "Grabaciones" in SpzMenu.
- Added: scrambled services icon in channellist (must be enabled in user options).
- A new feature it's added in OpenSPA options to configure how many days epg will be shown in OpenSPA's ChannelSelection. For better performance, default is one day.
- CCcamInfo and/or OscamInfo will be shown in Extensions menu when CCcam and/or OScam were installed.
- Now, crashlogs are stored in /home/root/logs (next version, user will choose location to store it)
- And small bugs fixed.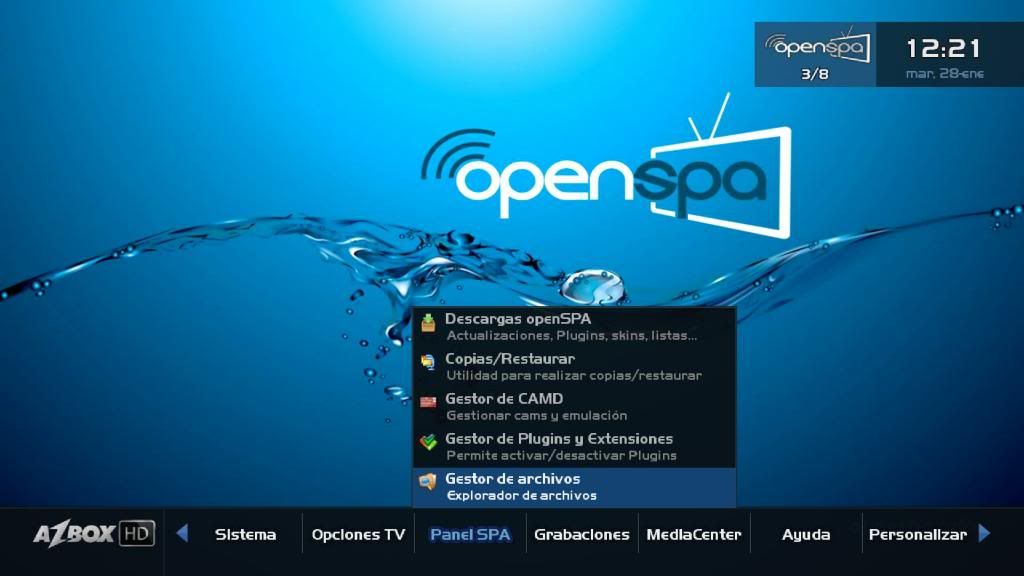 Dawnload AZbox ME image OpenSpa 3.0