Flashing & Initial Setup Of Your DreamBox With Dreamup
1 Before making any connections from your Pc to your Dreambox switch off both your Dreambox and PC.
2 Start universal DreamUp and make sure the Use Network option is unticked and select the com port your Null modem cable is attached to.
3 Now click connect, a status massage will be displayed saying the connections prepared now switch on the Dreambox.Do this by either switching back on the power at the plug socket or putting the power cord back into the power socket at the rear of your Dreambox.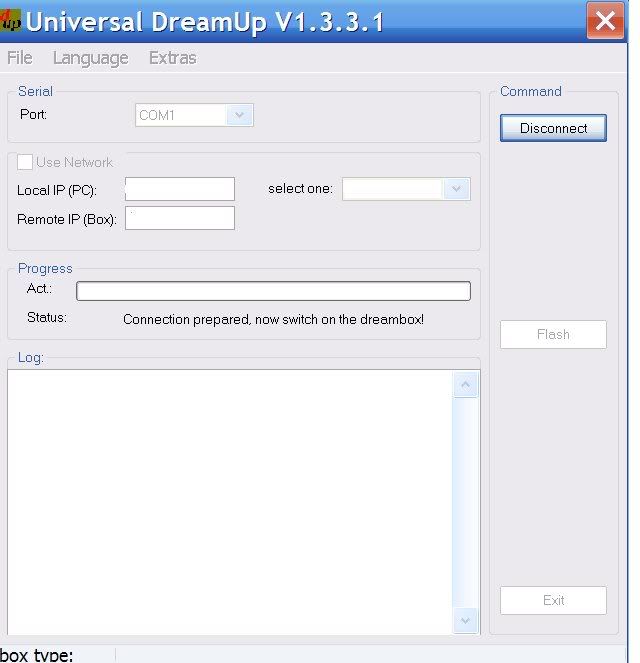 4 Now select Flash and point DreamUp to were you have your Dreambox Image and click open, the upload will now start. This will take around 12 minutes.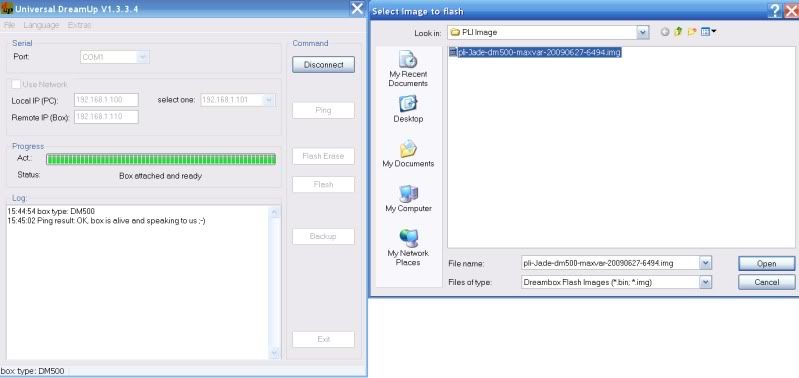 5 After the flash has completed click disconnect and power down then power up the box.
6 Time to get sat in front of the TV! As your box boots youíll see the Boot Logo Screen come up maybe a couple of times.
7 At the Pal Screen Select Pal or the system your TV uses and then press the green button on your remote to save.
8 Select your language and press the OK button.
9 Select your time zone and press the green button to save.
10 Youíll now see the Diseqc Setup menu and have 3 options to choose from
No Diseqc for a single LNB Setup.
Simple For a the setup of 2 Lnbís
Complex for Diseqc 1.2 or Usuals/Goto X
11 If you want to use usuals keeps the goto x box ticked and enter your Longitude and latitude and press the green button to save.
12 Now select Auto Transponder Scan. This will scan all available transponders till a valid one is found. When found press green to scan. When the scan is complete press OK.At this point you can now scan another satellite with a press of the green button or red not to. Later on in this tutorial ill be explaining how to transfer channel setting so you donít really need to.
13 Click exit and select a channel free to air to view.Now press the menu button-option5-reboot now, this will save your settings.
Thatís the flash and initial setup complete.
pay-server