Rooney will be focused - Hodgson
England boss Roy Hodgson is confident Wayne Rooney has a strong enough mentality not to let the turmoil he is experiencing at Manchester United carry over on to international duty.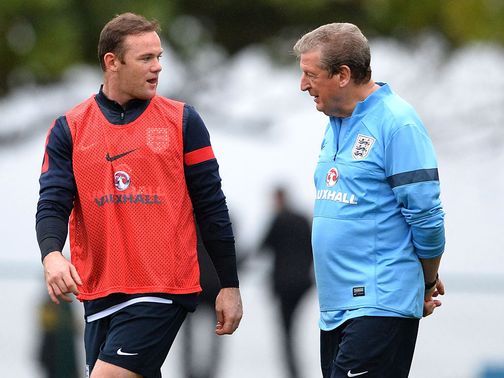 Related ContentFootball Transfer CentreThe latest football newsFollow us on TwitterFree £10 bet on football
With the full backing of Manchester United manager David Moyes, Hodgson has included Rooney in his England squad for next Wednesday's friendly with Scotland.
This despite the fact Rooney has not played a competitive game during a pre-season when his Old Trafford future has been thrown into doubt amid an apparent desire to join Chelsea and the Blues' own public interest.
There have been instances in the past of Rooney's notoriously short fuse blowing at times of personal torment.
It is something Hodgson is aware of, although he does feel the player has the discipline to cope.
"Sometimes we forget you cannot divorce the way a person is from the way he plays," said Hodgson.
"We expect them always to play at the level we expect of them, irrespective of their mental or physical state. We can't dismiss that.
"But in the year and a bit I have been working with him, Wayne Rooney's discipline has given me no concern.
"If he does take some part in the game I would expect him to put any personal or professional concerns he might have behind him and give everything for England."
Yet Hodgson must be aware of Rooney's news value.
The news that he trained with United's reserve squad spread like wildfire, with the immediate assumption being that the move had been triggered by Moyes having grown weary of the player.
The conclusion was incorrect, with Rooney having requested he skip a light first-team session ahead of Rio Ferdinand's testimonial in preference for a more strenuous session with the second string in order to build up his fitness.
As it happens, the move may have a positive spin-off for England given Rooney's failure to make a public appearance during the past four weeks.
Yet Moyes could be forgiven feelings of unease given the proximity Rooney will find himself in to so many senior Chelsea players, including Ashley Cole, a close personal friend of the former Everton man.
Hodgson can see no point in asking them to stay away from each other.
"That might be difficult," he said.
"Ashley Cole and Wayne are quite close friends. David Moyes must know that as well.
"If they weren't speaking in a hotel, they would be speaking on the telephone.
"I must say my thoughts have been so focused on what squad I can get together that I haven't taken it into real consideration.
"That's not to say I shouldn't and I do accept a duty of care because both David Moyes and Jose Mourinho have been fully supportive and understand my situation."