Golden oldies for QPR
Nick Miller takes a look at the Sky Bet Football League in his new column and offers his view on Harry Redknapp's QPR squad.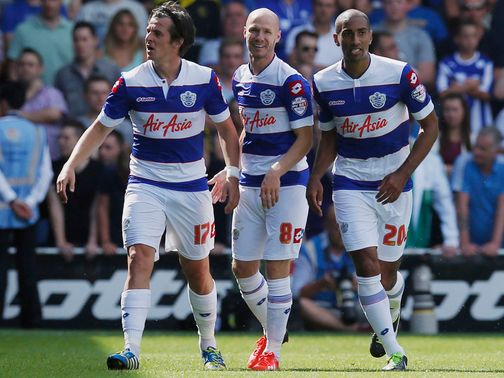 1 / 3
QPR's old boys have started strongly in the Championship.
Related ContentFootball Transfer CentreThe latest football newsFollow us on TwitterFree £10 bet on football
Profiles Richard Dunne Benoit Assou-Ekotto Tom Carroll Niko Kranjcar
The 14 players that represented QPR against Leeds on Saturday have a whopping 155 international caps between them. Six of the 18-man squad have represented England. Richard Dunne should make his 78th appearance for the Republic of Ireland against Sweden on Friday. Granted, international experience does not necessarily a cohesive team make, but it is an indication of the wealth of options available to Harry Redknapp.
Throw in three deadline day signings - Benoit Assou-Ekotto, Tom Carroll and Niko Krancjar - who, by all rights, should be playing in the Premier League (Krancjar appeared in the Champions League for Dinamo Kyiv last season), and it's probably fair to say that QPR have quite a good squad.
Indeed, at first glance one might think that this was a collection of players more than capable of a perfectly respectable Premier League finish. And at second glance, one wonders how the hell this collection of players managed to get themselves relegated last season.
That, of course, is a question with many layers of answers, all of them too complicated to answer here. What is of more concern to QPR at the moment is whether they will right that particular wrong and escape the notoriously logic-free Championship as soon as possible.
Championship
1 Blackpool 13
2 QPR 13
3 Burnley 10
4 N Forest 10
5 Leicester 10last updated 01/09 12:18
Redknapp at least seems to have a plan. One of the reasons his players have so many caps between them is he has an experienced bunch at his disposal. Only three of the starting XI from the Leeds game (Danny Simpson, Nedum Onouha and Charlie Austin) are under 30, suggesting that Redknapp believes the best way to win promotion sharpish is with players who are, shall we say, a little grizzled.
"Half of us can't even get up the pitch to celebrate a goal," joshed the 33-year-old Dunne at the weekend, and while there may well be quite a few japes about Harry's old boys, it does seem to be a sensible plan. Of course the biggest drawback of relying on ageing players is fitness, but Rangers' squad is so big that Redknapp can rotate enough to ensure that isn't really an issue. In a division that can be incredibly unforgiving, having a few chaps around who know how to grind a few wins out is shrewd.
Indeed, that's how the nascent season is panning out for QPR thus far. Five played, with four wins and a draw, and it's probably fair to say they haven't played well in any of them - certainly not as well as the talent in their squad suggests. Their scores read 2-1, 1-1, 1-0, 1-0 and 1-0 - hardly the sort of blockbusting entertainment one might think such an expensively-assembled side would provide.
But this doesn't matter even a little bit. The Championship is a fun league for a neutral, but a club of QPR's ambitions and indeed wealth are here for a short time, not a good time. Their aim is to get the hell out of here as quickly as possible.
And promotion is key for reasons other than Harry's ego - despite shifting the expensive likes of Djibril Cisse, Chris Samba and Adel Taarabt from last season's wage bill, this is still a club living beyond its means. Even with a generous owner, it is hardly a sustainable position, and a return to the increased riches of the Premier League is a must for the money men.
"Expectation is high at Loftus Road, and one would think the only people that could spoil this season for QPR are themselves. The trouble is, that's also where they went wrong last season."
QPR are Sky Bet's 5/2 favourites to win the Championship
One of the most remarkable stories in the Sky Bet Football League this season is surely Bury.
Bury
Bury 4 - 1 Cheltenham
Burton Alb 2 - 2 Bury
Bury 3 - 0 Accrington
In May, the club were on the verge of being shut down, 24 hours away from extinction after chronic financial problems that caused chaos and a remarkable turnover of players, some of whom were not receiving any money for their services.
"The fact the club couldn't afford a lawyer to transfer the deeds from the old regime to the new regime shows how desperately short of money we were," manager Kevin Blackwell told the BBC in August.
Thanks to a supporter-led campaign they survived, but that was only half the scrap for Blackwell, who had to release 16 players in the summer and basically build a team from nothing. But build it he has, recruiting 21 players since June, including Marcos Navas, brother of Manchester City winger Jesus, Rwandan striker Jesse Reindorf and former Burnley keeper Brian Jensen.
The season started slowly, as one might expect, with two defeats, but Blackwell seems to be turning things around incredibly quickly. They have won two and drawn one of the last three, with a 4-1 hammering of Cheltenham last time out.
What would be more remarkable than the tale already is if Bury won promotion from League Two this season. And if their improvement continues, it's not the most outlandish prospect in the world.
Back Bury at 7/1 with Sky Bet to win promotion
For many Football League clubs in these straitened times, the transfer deadline was something of a non-event. Many permanent transfers are often beyond the means of many teams, so the fun will really start upon the opening of the 'emergency' loan window on Tuesday.
Of course, the word 'emergency' is a complete misnomer in this situation, for that implies that a loan shall only be approved in the most pressing circumstances. Of course this is not the case, and any club who fancies a player shall have him.
As those a little higher up the food chain decide who they need and who they can do without, this is the time for some valuable business to be done.
Check out Sky Bet's latest Price Boosts
Still, one player who did move on deadline day was Marcelo Trotta, who returned on loan to Brentford from Fulham. Trotta, as you may recall, was the man who both insisted on taking (pushing aside regular spot-kick taker and club captain Kevin O'Connor in the process) then missed a last-minute penalty in the Bees' last game of the 'regular' season against Doncaster, who of course went straight up the other end and scored a promotion-winning goal, condemning Brentford to the playoffs.
"It is human nature to think that the glass is half empty and maybe remembering the things which weren't working out," said manager Uwe Rosler on Trotta's return.
"He is still very young and he learned a lot last year."
One hopes so.