Manager Focus: Sunderland
We take a look at the main contenders to be the next manager of Sunderland in our Manager Focus.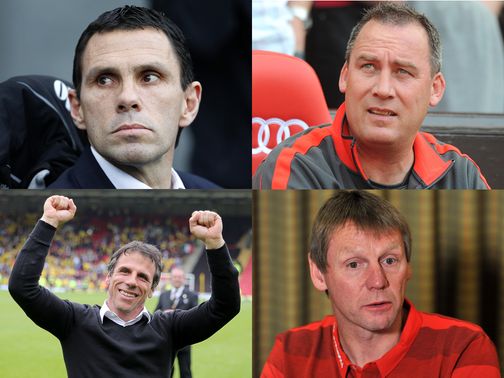 Related ContentFootball Transfer CentreThe latest football newsFollow us on TwitterFree £10 bet on football
Sunderland's search for a new manager is continuing after the sacking of Paolo Di Canio last weekend.
The Italian made plenty of headlines during his short stay on Wearside but he departed with the Black Cats in big trouble at the bottom of the Premier League.
Sunday saw an improved display in the 3-1 defeat at home to Liverpool and that will give the new man at least a little bit of hope for the future.
Chief executive Margaret Byrne says the club will speak to several more potential managers in the coming week but who will take the top job at the Stadium of Light?
Manager Focus investigates by looking at the main contenders...
Gus Poyet (1/4 with Sky Bet to get the job)
Team Managed Brighton (2009-2013).
Facts
Poyet played for Grenoble, River Plate, Real Zaragoza, Chelsea and Tottenham during his playing career.
Poyet worked as coach at Swindon, Tottenham and Leeds before becoming Brighton manager in 2009.
Poyet led Brighton to the League One title in his first full season in charge and took them to Championship finishes of 10th and fourth, losing in the play-offs semi-finals to Crystal Palace, before his exit.
Poyet's son Diego is part of Charlton's academy and has played for England Under-16s.
What He's Said "My opportunity to manage Sunderland is there. I'm waiting. Nervously. Since the start of the season, I've dedicated myself to watching the games of teams that might call me if things weren't going too well." Daily Mirror.
Paper Talk
Sunderland
Sunderland 1 - 3 Liverpool
Sunderland 2 - 0 Peterboro
West Brom 3 - 0 Sunderland
Sunderland 1 - 3 Arsenal
C Palace 3 - 1 Sunderland
Sunderland 4 - 2 MK Dons
Southampto 1 - 1 Sunderland
Sunderland 0 - 1 FulhamSunderland Results
The People, September 29 Guy Poyet faces an anxious wait before finding out whether he will be handed the reins at Sunderland.
Daily Star, September 28 Fulham could rival Sunderland for Gus Poyet as Martin Jol battles to keep his job.
The Sun, September 27 Gus Poyet could be made to wait until next week before finding out if he's the new Sunderland boss.
Daily Mirror, September 27 Sunderland owner Ellis Short is set to offer the manager's job to Gus Poyet after lengthy negotiations.
Daily Mirror, September 26 Gus Poyet claims he has been offered the chance to manage Sunderland - but is still waiting nervously for Ellis Short to seal the deal.
Daily Express, September 26 Gus Poyet is the choice of Sunderland director of football Roberto Di Fanti to put a smile back on the faces of the players - but the Italian will have a job persuading owner Ellis Short.
Daily Telegraph, September 26 Gus Poyet has confirmed he is nervously waiting to hear whether his bid to become Sunderland's manager has been successful.
Daily Mirror, September 25 Gus Poyet is set to be offered the Sunderland manager's job, with director of football Roberto De Fanti wanting a young "tracksuit" manager with good man-management skills.
Top Tweets
Sky Sports Football, September 25 (@SkyFootball) - Sky Sports understands Sunderland have begun talks with Gus Poyet over their vacant manager's job.
Sky Bet, September 25 (@SkyBet) - Is Gus #Poyet about to become a Mackem? The Uruguayan is now huge 2/7 favourite to replace Di Canio as #SAFC gaffer
WhoScored.com, June 24 (@WhoScored) Gus Poyet: Brighton won 44.4% of their league games with Poyet in charge, losing 24% and scoring an average of 1.43 goals per game
Video
March 2013 - Poyet selects the top 11 players he's ever faced in his #One2Eleven.
Our View
Poyet is definitely the man leading the race with his name featuring all over the press during the last week as favourite for the job. He turned Brighton from a struggling League One side to Championship promotion contenders during his successful tenure at the Amex Stadium but the relationship with the Seagulls did end in tears. However, don't let that stop you appreciating the fine job he did on the south coast. Premier League management would be a new challenge for the Uruguayan but Di Canio had even less experience when he became Sunderland boss. A worthy favourite but there are other contenders to consider.
Rene Meulensteen (5/1)
Teams Managed Al-Ittihad (1999-2000), Al-Sadd (2000-2001), Brondby (2006-2007), Anzhi Makhachkala (2013).
Facts
Meulensteen coached in Qatar following the start of his time on the touchline at the end of his playing career with NEC Nijmegen.
Meulensteen worked as a coach at Manchester United between 2001 and 2013 bar a short spell as manager of Danish club Brondby.
The Red Devils won the Premier League three times, the Champions League in 2007/08 and the FIFA Club World Cup in 2008 during Meulensteen's time working with Sir Alex Ferguson.
Meulensteen only lasted 16 days as manager of Anzhi Makhachkala as the club's playing budget was slashed with big name players like Chelsea's Willian leaving.
Top Tweets
Oddschecker, September 27 (@Oddschecker) - Rene Meulensteen most popular bet on site currently to be next #SAFC boss. Now 8/1 from 66/1
Football journalist Sid Lowe, August 29 (@sidlowe) - Genuine question. Rene Meulensteen seems to be about quite a bit at the moment. Any particular reason?
Video
June 2013 - Meulensteen talks to Sky Sports News' Jim White after announcing he is to leave Manchester United.
Our View
Meulensteen has a great reputation from his time working at Manchester United and is being linked with every manager's job that now comes up. He was heavily touted as Roberto Martinez's replacement at Wigan before Owen Coyle took over in the summer and his subsequent time in charge of Anzhi didn't leave many memories. We have seen Steve McClaren and Brian Kidd get to step up from a coaching role at Old Trafford to being in charge of a Premier League club so could the Dutchman be next? Maybe but not necessarily at Sunderland with his name being touted for Fulham as Martin Jol finds himself under pressure.
Gianfranco Zola (10/1)
Premier League
12 Man Utd 7
13 Swansea 7
14 Norwich 7
15 Stoke City 7
16 Newcastle 7
17 West Ham 5
18 Fulham 4
19 C Palace 3
20 Sunderland 1last updated 29/09 17:54
Teams Managed West Ham (2008-2010), Watford (2012-).
Facts
Zola's successful playing career took him to Nuorese, Torres, Napoli, Parma, Chelsea and Cagliari.
Zola was awarded an OBE by the British ambassador to Italy in 2004.
West Ham finished ninth after Zola took over as manager in September of the 2008/2009 season. They finished 17th in the next campaign and Zola was sacked to be replaced by Avram Grant.
Watford lost in the Championship play-off final to Crystal Palace at the end of Zola's first season in charge.
What He's Said "Of course I am flattered that I have been considered but I am really happy over here (at Watford) and like what I am doing. I think my growth as a manager has been massive and so I want to fulfil this task that I will be here."
Paper Talk
Daily Mirror, September 24 Watford boss Gianfranco Zola is the shock name on Sunderland's managerial shortlist after the sacking of Paolo Di Canio.
Top Tweets
Sky Bet, September 24 (@SkyBet) - Gianfranco Zola 'flattered' to be linked with the #SAFC job and we still make him 9/1 to be their next gaffer!
Former Sunderland defender Anton Ferdinand, September 22 (@anton_ferdinand) - A lot of people mentioning Di Matteo Poyet & Zola all good managers and there teams play good football
Our View
It would be a surprise to see Zola swap Watford for a long journey north. The Hornets are once again in the Championship promotion race and a move to Sunderland would see him enter the heat of the Premier League relegation battle. The Italian has already played down talk linking with the job so it would take a change of heart to see him enter the running.
Kevin Ball (16/1)
Teams Managed None.
Facts
Ball played for Sunderland between 1990 and 1997 - twice winning the First Division (Championship) title.
Ball also played for Coventry, Portsmouth, Fulham and Burnley during his playing career.
Senior professional development coach was Ball's role at Sunderland prior to taking temporary charge of the first-team.
Ball was previously caretaker manager of Sunderland for 10 games between March and May in 2007 after Mick McCarthy was sacked on the way to relegation from the Premier League.
What He's Said "Anybody who is anybody would like to be considered for it. In the sense of what I have done as a coach or a player and not only that, my qualifications I have gone out and got as a coach, I would like to be considered. But ultimately, that's the club's decision and I would go with that, whether it was me or someone else, they would have my full support."
Paper Talk
Daily Star,
September 26 Kevin Ball has turned Sunderland into 'Funderland' since picking up the pieces following Paolo Di Canio's botched revolution
Top Tweets
Football journalist Henry Winter, September 29 (@henrywinter) - Kevin Ball on importance of man-management: 'I want a smile on faces. You've got to enjoy what you're doing. You can enjoy hard work' #safc
Oddschecker, September 25 (@Oddschecker) - Kevin Ball as short as 7/1 for Sunderland job after declaring interest but remains best price 22/1. Poyet 1/4
Video
Sunderland
Sunderland v Man Utd
Swansea v Sunderland
Sunderland v Newcastle
Hull City v Sunderland
Sunderland v Man City
Stoke City v Sunderland
A Villa v Sunderland
Sunderland v ChelseaSunderland Fixtures
September 2013 - Ball talks about the 3-1 defeat against Liverpool.
Our View
If possession is nine-tenths of the law then Ball has a good shot at moving from caretaker charge to a more permanent arrangement. He has led the team to Capital One Cup victory over Peterborough and the defeat against Liverpool during his opening couple of games and is clearly well regarded by the Sunderland fans. He has served the club well during both his playing and coaching career but is relying on others to leave the chase if he is to get the nod. That doesn't mean he should be ruled out entirely just yet.
Stuart Pearce (20/1)
Teams Managed Nottingham Forest (1996-1997), Manchester City (2005-2007), England Under-21s (2008-2013), Great Britain Olympic team (2012).
Facts
Pearce made 78 appearances for England during his international career and played his club football for Wealdstone, Coventry, Nottingham Forest, Newcastle, West Ham and Manchester City.
Pearce was caretaker player-manager of Nottingham Forest between December 1996 and March 1997 during a season which saw the club relegated from the Premier League.
Pearce worked as a coach under Kevin Keegan at Manchester City before taking the top job at the club.
Pearce took charge of England's friendly against Holland in February 2012 and the Three Lions lost 3-2.
Top Tweets
Oddschecker, September 28 (@Oddschecker) - Stuart Pearce has been backed in to 2/1 from 66/1 to be next Sunderland manager
The FA, June 18 (@FA) - The FA today advised #EnglandU21s coach Stuart Pearce they will not be renewing his contract.
Video
June 2013 - Pearce can't defend his players after England's third defeat in a row at the European Under-21 Championship.
Our View
Pearce is a surprise candidate after attracting interest with the bookies. The 51-year-old's stock isn't very high after the awful end to his tenure as England Under-21 coach and the Sunderland fans will also have noted his time spent playing for rivals Newcastle. He would clearly be very interested in the job but the likes of Poyet and Zola currently have a much greater standing on the managerial merry-go-round.
The Other Contenders: Steve McClaren (22/1), Murat Yakin (22/1), Tony Pulis (25/1), Roberto Di Matteo (40/1), Alex McLeish (50/1), Ole Gunnar Solskjaer (66/1), Andrea Stramaccioni (66/1), Roberto Mancini (66/1), Terry Butcher (66/1), Gary Neville (80/1), Neil Warnock (80/1), Peter Reid (80/1), Martin O'Neill (80/1), Jurgen Klinsmann (100/1), Ralf Ragnick (100/1), Giovanni Trapattoni (100/1), Nigel Clough (100/1), Neil Lennon (100/1), Mick McCarthy (100/1), Alan Curbishley (100/1).