Henderson eyes World Cup spot
Liverpool midfielder Jordan Henderson believes the improvements he has made since his last England cap give him a better chance of securing a World Cup spot.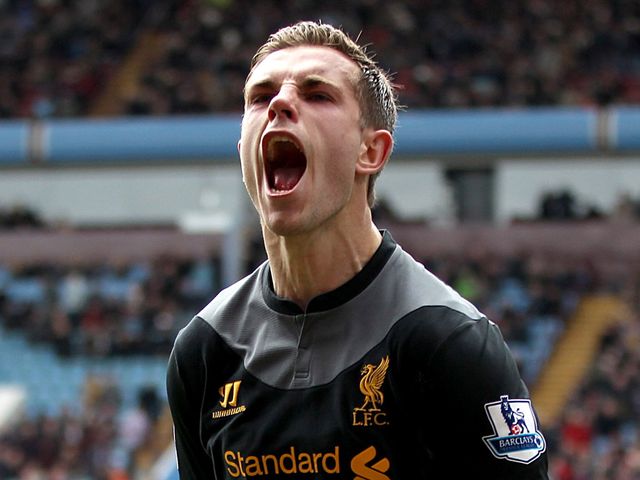 Related ContentFootball Transfer CentreThe latest football newsFollow us on TwitterFree £5 bet every week
The 23-year-old has been recalled to the senior squad for the forthcoming friendlies with Chile and Germany having made his fifth and most recent appearance in the Euro 2012 quarter-final penalty shoot-out defeat to Italy.
His performances at club level have moved on significantly this season, earning him another chance at senior level having returned to England's Under-21s for the 2012-13 season.
"It's a massive boost and I'm delighted to be going there but when I'm there I need to make sure I'm working hard and do what I've been doing here really," Henderson said.
"I think it (the World Cup) is up for grabs for anyone.
"If you are doing well and your team is doing well people will be looking at you but now I have the chance to go and train and possibly play I have to make sure I'm at it form the start.
"I am sure a World Cup will inspire anyone but football is enough to inspire me: just to go out and play every week.
"Hopefully I can do the best I can and get picked again.
"I definitely think I have improved over a few years so hopefully I can keep improving as time goes on."
Henderson admits to feeling frustrated at having to watch on television England's victory over Poland which secured qualification for the World Cup.
"You get a few days off (when not picked for international duty) but I didn't really enjoy it to be honest," he added.
"I want England to do well and I thought they were brilliant but it was disappointing I had a couple of days off and was watching it on the telly."
But he knows if he can get a foothold in the squad, boss Roy Hodgson has already shown he has faith in him by throwing him on in that Euro Championship quarter-final.
"It was in extra time. Scotty (Parker) was a little bit tired so I tried to give them some legs in the middle and we obviously got beat on penalties, which was disappointing," he said.
"It is brilliant he (Hodgson) could put me on at that stage of the game and believe I could go and do a job for the team.
"I feel as though I've improved since then."