How to watch TPG's IPTV with Myth TV
I'm a big fan of
MythTV
. Current version is 0.21
Very recently, the bug I reported earlier about poor playback quality in MythTV 0.21 has been fixed. Download a MythTV after SVN revision
16460
. This is fixed in either 0.21-fixes and in trunk.
MythTV allows recording, time-shift: pause, rewind and even automatic ad removal ! (though there aren't any ads on the channels provided by TPG)
Myth 0.21
Grab the grabber for TPG there
http://www.avenard.org/iptv/tv_grab_au_tpg
and copy it to a location in your PATH, usually /usr/bin.
Please refer to the
EPG page
for more detailed explanations (including dependencies).
Stop mythbackend.
Start mythtv-setup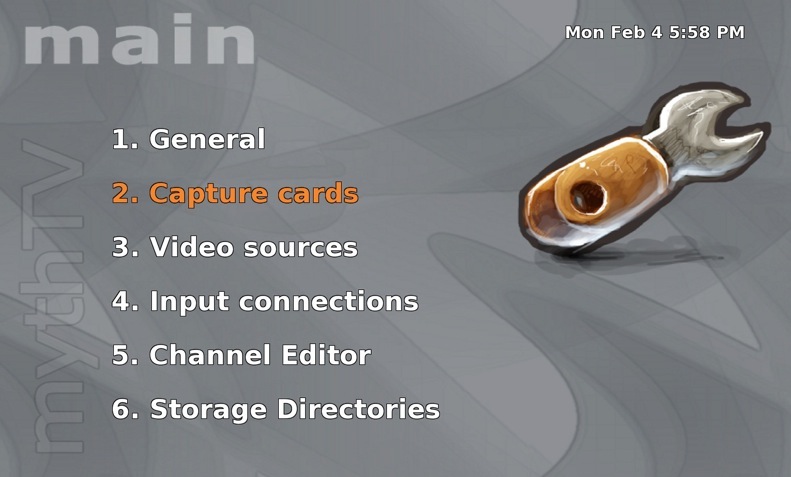 Go into "2. Capture Cards" add a new one, call it TPG. For the type of card select ""Network Recorder"".
Enter the M3U URL
http://avenard.org/iptv/playlist-tpg-myth.m3u
"Tuning Timeout (msec)" enter 10000, to give plenty of time to start streaming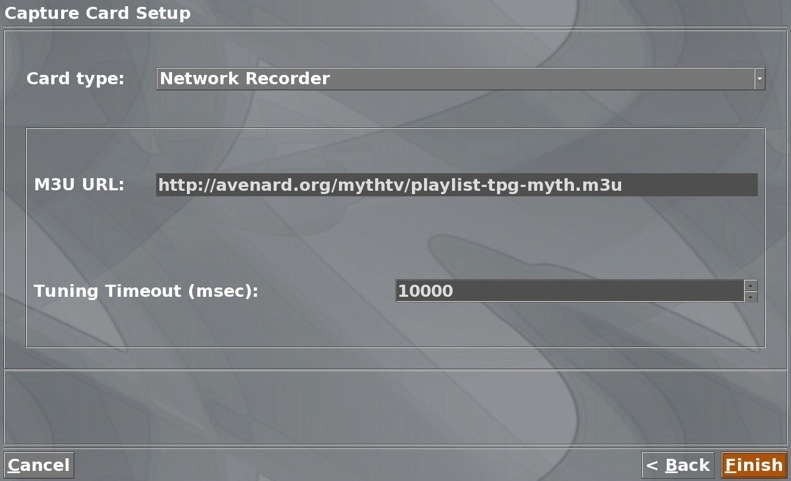 On the main menu, go into item 3 "Video sources". Select New Video source
Enter IPTV for Video source name.
Select Australia (TPG's IPTV from various sources) "tv_grab_au_tpg" for the Listings grabber and default for the frequency table.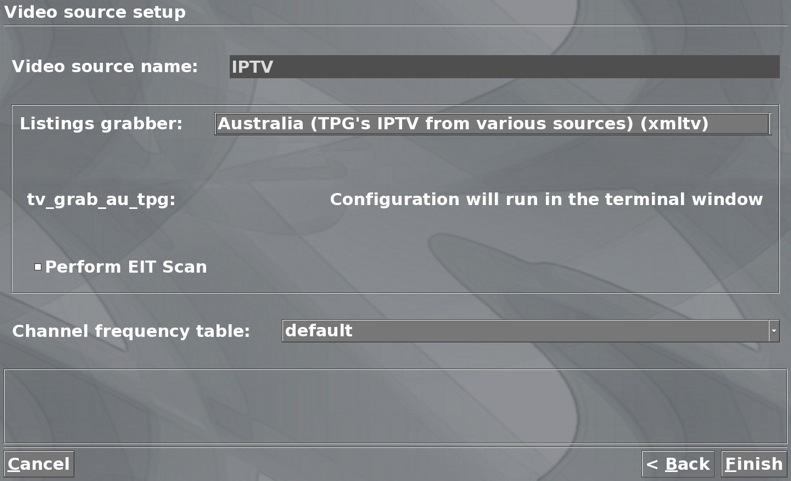 When done click on Finish.
Now look in the terminal where you've started mythtv-setup, you'll see:
2008-05-05 15:09:00.035 Please wait while MythTV retrieves the list of available channels
TimeZone - SA,WA,NT,ACT,VIC,NSW,QLD,TAS,: (VIC) :
If you're in Victoria (the default) just press ENTER. Otherwise enter your state.This is to calculate the time-zone you're in. It doesn't really matter as MythTV does a great job at setting your time-zone
Go back to the main menu, select 4. Input Connections.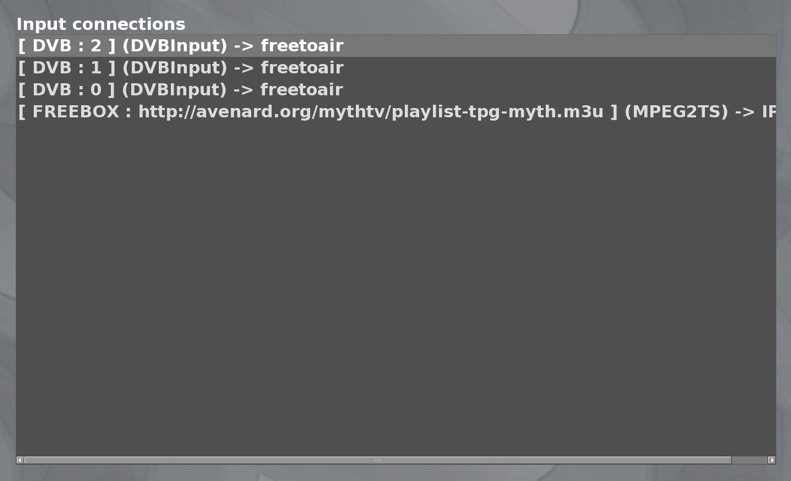 Ignore the DVB entries ( i have three DVB-T cards on my mythtv HTPC)
Select Freebox.
Note:
The Freebox
is the name of the ADSL modem provided by the French ISP Free. It is the best system I ever got the pleasure to use. It's an all-in-one box, with TV connections, phone, wifi, router. It can be used for video recording , time-shifting: pause, rewind etc (it includes a hard disk). With the Freebox you can watch over 230 free TV channels (directly on the TV or via VLC), you can get realtime ratings and how many people are watching this channel. It gives you free phone calls to over 50 countries. The Freebox can even be used to stream videos from a VLC server running on a local machine to your TV.
It comes with a little wireless adapter that you plug to your TV so you don't need to have the Freebox right next to your TV. And all this for 29 euros per month. I want to go and live in France just to get a Freebox !
TPG, please give use a Freebox-like device !
Back to reality in Australia and TPG.
Select for Video Source the one you created earlier (should be IPTV).
Then select "Scan for channels"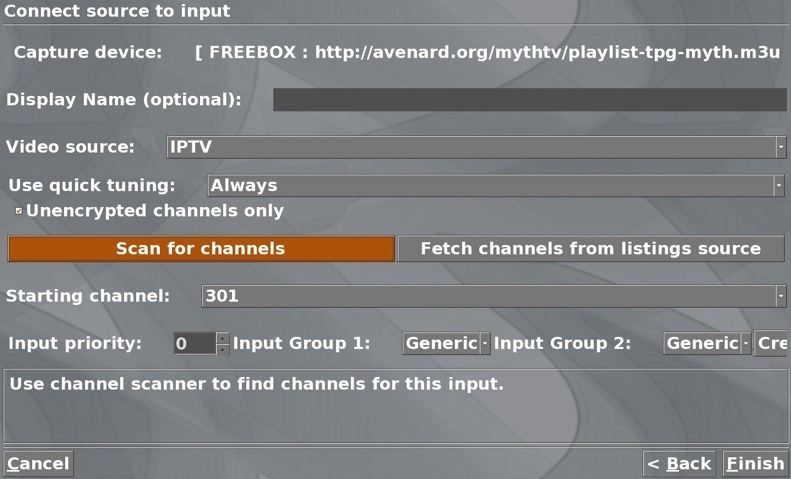 You'll get on this screen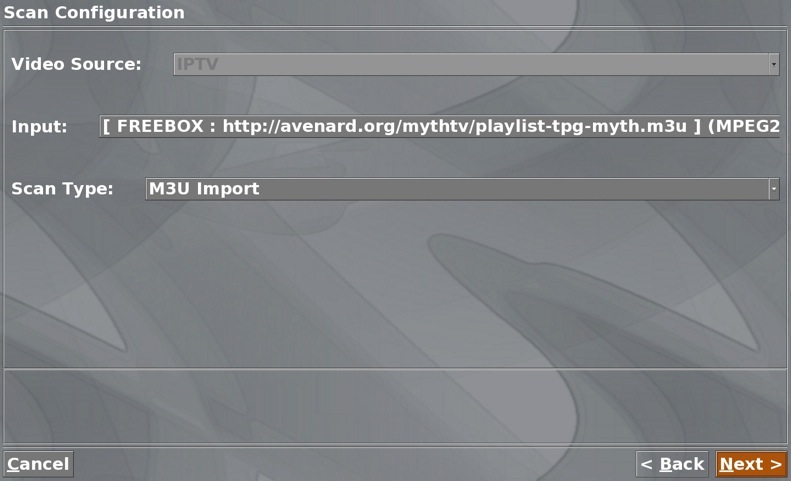 MythTV will go and grab the playlist file and automatically add all the channels.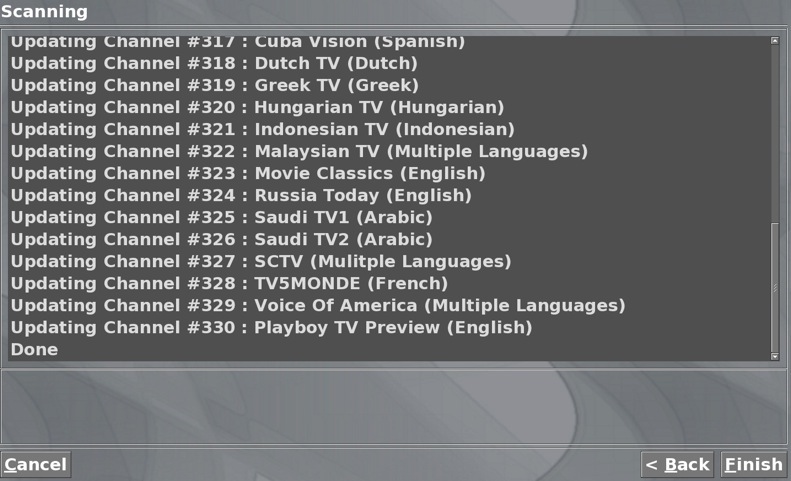 I have numbered the channels from 300 to 330. Reason being that I use MythTV to watch plain TV using a DVB-T adapter and the channel numbers on Free-to-Air go up to 220 (ABC radio).
Here is the channels list:
301 - Al Jazeera (English)
302 - Bloomberg (English)
303 - Channel News Asia (English)
304 - World of Fashion (English)
305 - Eurosport (English)
306 - Eurosport News (English)
307 - DW - Deutsche Welle (German/English)
308 - Phoenix InfoNews (Mandarin)
309 - TRT (Turkish)
310 - TVE International (Spanish)
311 - Chinese TV1 (Mandarin)
312 - Chinese TV2 (English)
313 - Chinese TV3 (Mandarin)
314 - Chinese TV4 (Mandarin)
315 - Chinese TV5 (Mandarin)
316 - Chinese TV6 (Mandarin)
317 - Cuba Vision (Spanish)
318 - Dutch TV (Dutch)
319 - Greek TV (Greek)
320 - Hungarian TV (Hungarian)
321 - Indonesian TV (Indonesian)
322 - Malaysian TV (Multiple Languages)
323 - Movie Classics (English)
324 - Russia Today (English)
327 - SCTV (Mulitple Languages)
328 - TV5MONDE (French)
329 - Voice Of America (Multiple Languages)
330 - NASA TV (English)
331 - Hindi Entertainment (Hindi)
332 - Indian News (Multiple Languages)
333 - Indian Sports (Hindi)
334 - Thai TV5 (Thai)
335 - VTV4 (Vietnamese)
398 - Playboy TV Preview (English)
399 - ----- One (Love)
(Thanks to
TimMc
from
Whirlpool
, it would have taken me much longer to find out the list without him)
Now go back to the main menu, and select 5. Channel Editor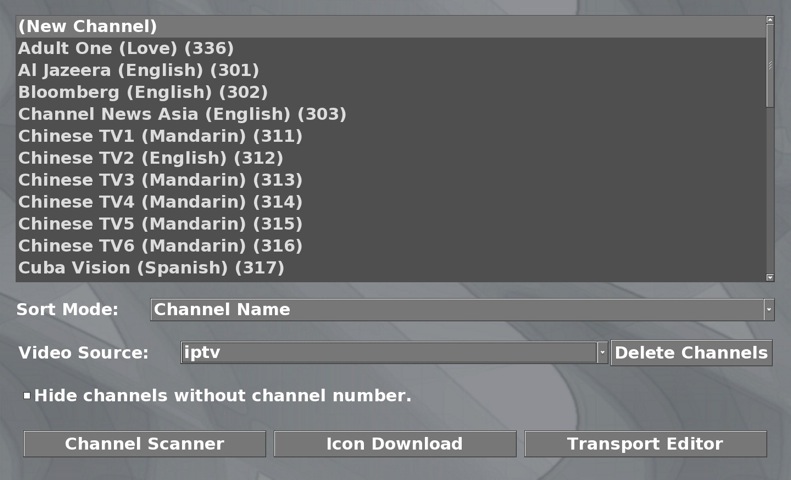 Now for each channel, select the channel in the list, and edit the entry.
Fill the appropriate XMLTV ID
For the list of all XMLTVID for each channel,
check there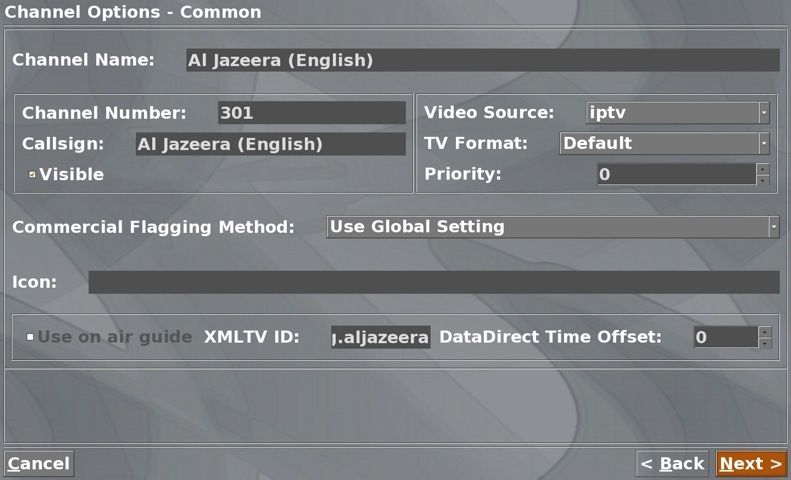 When done. Validate and exit mythtv-setup.
Run mythfilldatabase, no need to run it with --manual as they tell you.
Alternatively, you can use the mythweb interface (I find this much easier)
Go into the mythweb interface -> settings and select Channel Info and enter the value for each xmltvid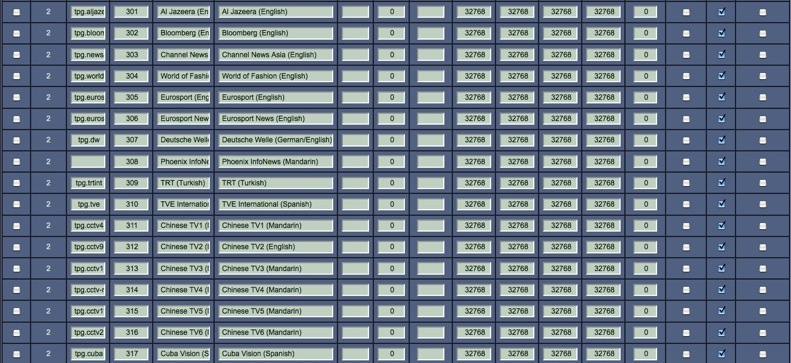 When done, run mythtfilldatabase. You may need to run it twice for the information to be captured.